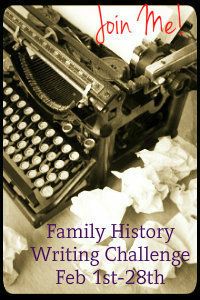 I am excited to be taking part in
The Armchair Genealogist
's
Family History Writing Challenge
in February! Twenty-eight days of writing family history... that oughta get this old blog rolling again!
The idea is to pledge to write a certain number of words per day. I've pledged 75 per day - which sounds incredibly wimpy, but at the end of the month I hope to have produced four more "mini-bio" blog posts like the one I did on Carrie York,
here
.
Wish me luck and follow along to see how I do!